Daily painting #229. 4"x6" oil on primed canvas panel
FREE SHIPPING worldwide for remainder of May so visit my online store!
Yesterday I received a message from a friend who supports a non-profit organization (actually a husband and wife team) here in Durban called Monkey helpline. This couple have dedicated their life to helping and rehabilitating our Vervet monkeys who live in the city. Now many consider these monkeys pests, however their natural habitat has simply been invaded by development and food is scarce and the troops are susceptible to more dangers...cars knocking them over as they follow their natural route....attacks from dogs in gardens ....and even the dangers of callous, senseless humans who shoot at them with pellet guns in an attempt to chase them away! We have a troop who live in the trees in the park and public gardens bordering our home and we love to watch them interacting and playing in the tree tops! The mommies and their babies are too precious to watch! They do occasionally climb in through the kitchen window to feast on delights in my fruit bowl but generally they keep their distance because of my dogs. Anyway....yesterday the message I received was that a little baby monkey from this troop had been found injured with broken bones (I am not sure what caused this but it certainly wouldn't have been natural causes). The monkey helpline have rehabilitated the baby and are wanting to reintroduce her to the troop and hopefully reunite her with her mother. I was asked to look out for the troop and let them know if I saw them and they would come straight away.....
Needless to say my children and I have been scanning the afternoon skyline and tree tops all afternoon for monkeys...but nothing yet! I do hope this little baby Vervet monkey can be reunited with her Mom!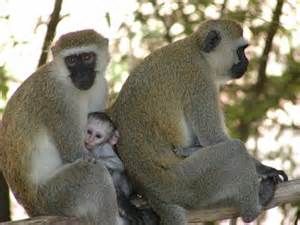 This image is not my own but sourced from a sight offering free downloadable images.
Purchase paintings at
Heidi Shedlock Fine Art
(Click the highlighted writing to view gallery if available daily paintings)